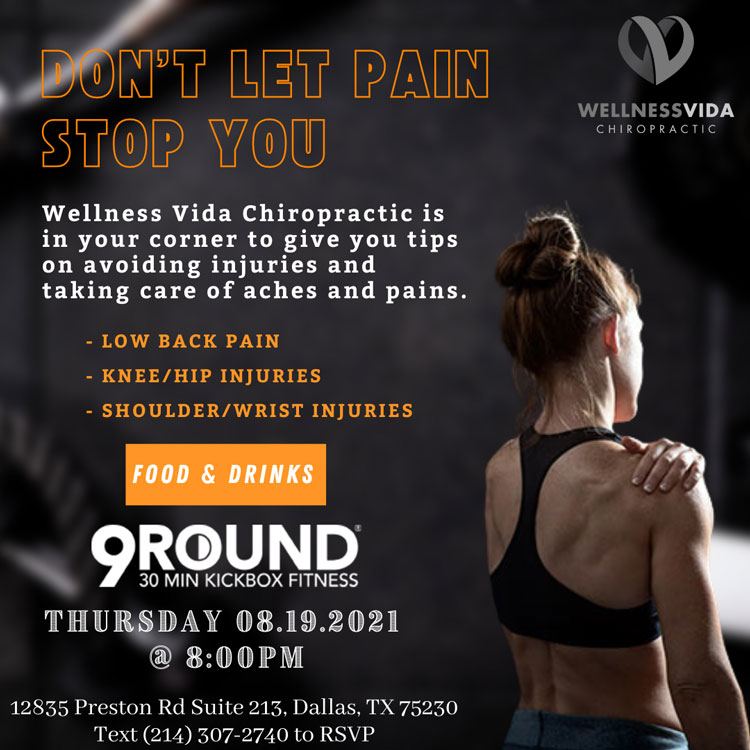 We have some exciting events coming up!
Have pain and injuries prevented you from exercising the way you want to? Join the Wellness Vida team at 9ROUNDS Fitness on Thursday, August 19th @ 8:00pm to discuss all things workout injuries. Our doctors will be breaking down how to effectively manage low back pain, knee/hip pain, shoulder injuries and much more. As a bonus, we will also be sharing some tips on how to prevent future injuries.
Food and adult beverages will be provided! Please RSVP by texting "9ROUNDS" to 214-307-2740.
WHEN:
August 19th, 2021 at 8:00pm
WHERE:
9ROUNDS FITNESS
12835 Preston Rd Suite 213
Dallas, TX 75230
OFFICE HOURS
---
Monday
10:00am - 6:30pm
---
Tuesday
10:00am - 6:30pm
---
Wednesday
9:00am - 5:00pm
---
Thursday
10:00am - 6:30pm
---
Friday
8:30am - 3:00pm
---
Saturday
Closed